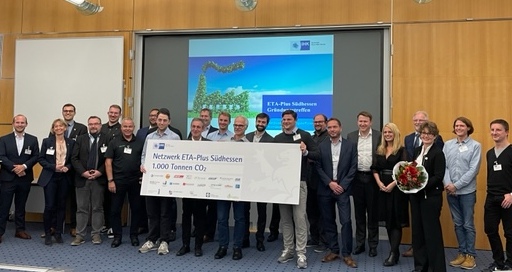 ETA-Plus Südhessen: Clear CO2 reduction targets set
At the official founding meeting of the energy efficiency and climate protection network ETA-Plus Südhessen at the Darmstadt Chamber of Commerce and Industry, the members set themselves a common savings target. In the next two years, they want to avoid 1,000 tons of CO2 emissions.
For the more than 20 companies, this is an ambitious goal. However, Dr. Nico Wenz from the Darmstadt Chamber of Commerce and Industry, who is overseeing the initiative, is confident that the goal can be achieved together. The experience of the last 5 years with the predecessor network in Südhessen, which was able to implement 50 measures for energy efficiency and climate protection, confirms the expectations.
After the easy to realize climate protection measures in Südhessen could already be implemented to a large extent, it is now the challenge to tackle the more difficult tasks that require more effort. The Darmstadt Chamber of Commerce and Industry supports companies with this network by enabling them to learn from good examples. With an impulse lecture on Circular Value Creation, it was a great concern of mine to bring the Circular Economy as the Neo-Economy for the Post-Anthropocene into the focus of entrepreneurs for this purpose.
A new feature is the platform-based website where good examples can be posted  Companies outside the network can also enter their projects in this "Quickfinder to your climate and energy efficiency solution" – and of course find solutions.
The nationwide Energy Efficiency and Climate Protection Network initiative is structured quite differently in the German states. In Rhineland-Palatinate, for example, the Efficiency Network Rhineland-Palatinate, a central, interdisciplinary and non-commercial information and consulting platform, is based at the State Office for the Environment. In North Rhine-Westphalia, the Effizienz-Agentur NRW (Efficiency Agency NRW), commissioned by the Ministry of the Environment, offers a comprehensive range of services for identifying potential savings in raw material and energy consumption, particularly for manufacturing companies.
So there are many places to go for support in climate protection, so that clear goals also lead to measurable results and we can perhaps put the brakes on climate change after all.