ESG Portfolio Management member of the PRI Leaders 'Group 2020
Today we are proud to report the news from Christoph Klein, who, with ESG Portfolio Management, is a signatory to PRI, Principles for Responsible Investment, and who was accepted into the Leaders 'Group 2020 there. This distinguishes the participants of the PRI Reporting Framework who show a particularly wide range of responsible investment excellence and who particularly stand out in this year's topic of climate protection.
Of the 36 out of 3,300 signatories who have received this award, only one other company is from German-speaking countries. A clear sign of how far the road to sustainable investments is still in Germany, Austria and Switzerland.
"The challenge is to apply the EU taxonomy to all funds and mandates as quickly as possible. Our goal is to achieve a high degree of compliance with the taxonomy while maintaining a diversified portfolio," says Christoph Klein. He contributed to this with a case study on Mowi Bond.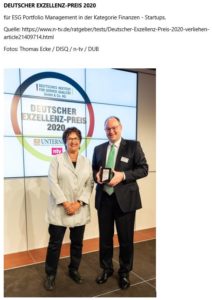 PRI, an investor initiative in partnership with the United Nations, is dedicated to the practical implementation of the six principles for responsible investing. The aim is to gain a better understanding of the impact of investment activities on environmental, social and corporate governance issues and to support the signatories in integrating these issues into their investment decisions.
It is not the only award for Christoph Klein this year. In January ESG was awarded the German Excellence Prize 2020 as a particularly sustainable investment fund in the area of start-ups finance. How his funds performed in the March 2020 Corona Crash is shown in a chart we published in our blog article last year.