We have moved in!
Thinking Circular® and FZ Recycling GmbH & Co. KG Im Schülert 13, Niederzissen
A construction site is always fascinating, exciting and surprising. For builder Leif Ziebeil, this has become an everyday occurrence in the past few months. But despite all the tensions and surprises – it's done. We have moved in.
99.9 kWp photovoltaic systems produce electricity on the roof and supply buildings and production. The vision of circularity, sustainability and energy efficiency has become real. Anyhow – even after months of planning and construction, the corona pandemic and lockdown, the ideas and plans have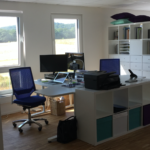 become a tangible reality.
On the office floor of Thinking Circular® there are cupboards, shelves and desks on the shimmering wooden floor, books, files and work materials are stored. Network and computers are set up. Large windows let in a lot of light and allow a view of the fields and forests of the Eifel. It is easy to look out over the neighboring halls of the industrial area.
"Working here is as nice as we imagined it to be," says founder and owner Eveline Lemke. "We have created a great environment for our customers and partners as well as for the employees. Even in times of  Corona, which has made a lot of things difficult, we are confident about the future" With the vision of a more sustainable future and the mission to advance the circular economy, Thinking Circular® is well positioned and prepared to assist their customers in mastering the challenges of implementing systematically greener concepts after the crisis.