The better is the enemy of the good
Our plastic packaging waste is preserved for centuries and pollutes the oceans, unless it is burned. Since the presentation of the Ellen McArthur Foundation at the World Economic Forum in Davos in 2018, no one seriously denies this and has triggered disruptive changes. What was once dismissed as an issue for tree huggers is developing into innovative business models in many industries.
In the paper industry these changes are not only a chance for more sustainability but also a necessity. In the digital age opening up new markets is a real challenge. It's all about creativity, because it's not just about replacing unsuitable materials, but also about other uses, about a different lifestyle that is currently being developed. Creative developments are leading small and large companies to innovative applications, more efficient processes and designs that are recyclable without a negative environmental impact. These are examples for successful innovation:
Cupforma Natura Solo Cups, Stora Enso, Finland
The innovative paper cups are made from a renewable cardboard box designed for effective recycling. This material is suitable for hot and cold drinks as well as for ice packs. It is manufactured without conventional plastic coating and is designed for the complete recovery of fibers in the recycling process.
Landbox – naturally isolated with straw, Firma Landpack, Germany
The insulated packaging made of pure straw is not only visually a true eye-catcher, but also scores with insulation performance that was previously only known from styrofoam. Up to 65 hours below 4 ° C and even in summer outside temperatures.
Straw fibers are used in their purest form and processed extremely energy-efficient, climate-neutral and without further additives according to methods of food technology. The customer receives probably the purest straw in the world – for disposal in organic waste or garden of course.
Furniture and room divider made of paper, molo design ltd., Canada
As a design and production studio by Stephanie Forsythe and Todd MacAllen between design, art and architecture, molo is known for inventing elegant, extensible structures that adapt to life's changes. These include a foldable wall system, paper furniture and lighting. Customers around the world receive a collection of innovative and sustainable flat-pack products.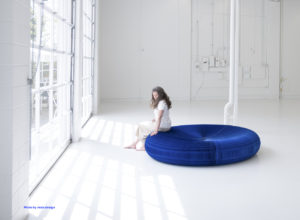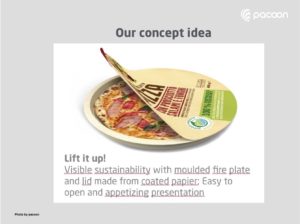 Concept idea food packaging, pacoon gmbH, Germany
Germany's leading agency for packaging design and sustainability
Specialists in Packaging Design … and more! Owner-led design agency for brand and corporate strategy, material, texture and function, through to graphic design and refinement. Innovative ways and orientation in packaging design and sustainability.
Paper mold insert, DE-PACK GmbH & Co. KG, Germany
DE-Pack offers stable protection products with its innovative clean paper packaging. Notwithstanding that this is a recyclable paper packaging. However, a special mix of paper-based foams ensures that the packaging is form-true via injection molding technology. The basic components that make up virgin paper are fully biodegradable
Waterproof paper backpack, ES-Wang Mode, Germany
ES-Wang is a German fashion label that offers high-end products at affordable prices. Fashion to live, to feel good and to remain true to oneself.