CASCADE Erasmus+ Advancing digital solutions for the circular economy
Closing a loop in our digital age usually requires a digital solution. Startups or SMEs that are in the process of transforming to circularity, or aiming to do so, are quickly faced with this task. The competencies for digital solutions are often available. But how do we make this solution circular? And how do we convey the circularity of our solution in a potential grant application or pitch to an investor? The answers to these questions are digital. The software solutions to them must be circular.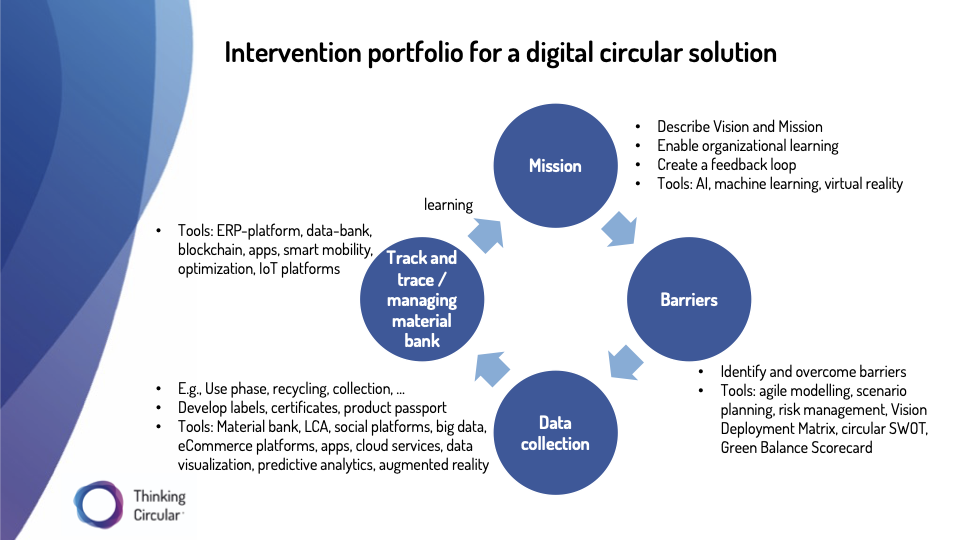 For this, a fundamental understanding of the circular economy is an indispensable prerequisite. A digital solution to a circular problem can only be found if the gaps in the cycle are identified and understood. At the same time, it has been shown that circular solutions are often only made possible by digital developments. Digital innovations and innovations in the circular economy are positively related.
Digital transformation is a great opportunity for small and large companies. All areas such as strategy, value creation, value chain, operations, pricing, sales and customer relations can be systematically set up from the perspective of the Circular Economy. Particularly for start-ups and SMEs, this is a challenge and an opportunity to look for precisely tailored solutions.
A joint European Erasmus+ project
Funded by the European Union through Erasmus+, Thinking Circular® is developing a program with seven other European partners in the CASCADE project to acquire competencies for the development of digital solutions for the Circular Economy and to present them.
At the kick-off meeting for the CASCADE project in Graz, the various aspects, goals and measures to implement CASCADE were discussed with the partners. The project partners include Thinking Circular®, the project coordinator bit management from Graz, ImpactHUB Lisbon as well as ImpactHUB Bucharest, AVO from Prague, EcoRes from Brussels, Lomartov from Valencia and ENIDE from Barcelona. The project partners are ensuring that a learning platform is launched. That will enable SMEs to develop their own circular software solution and apply for funding for it.
CASCADE is a 10-week self-learning program that provides the target group with a complete knowledge package. You do not only learn everything about the circular economy and how to implement it in your own projects, but there are also learning units for funding and project management. The result is a complete project proposal that can be submitted to the EU to receive funding for the digital solution developed or a pitch to attract investors.
Currently, the CASCADE project is still in the starting blocks. We will continue to report on it in the near future. However, if you already feel addressed and are interested in this program, please contact us! We are already looking for companies that want to test the learning program with us during the pilot phase.
Also, follow #cascadeerasmus and #circulareconomy to learn more!