Happy Circular Christmas
Our consumption is boosted at Christmas: Over 28 million Christmas trees, many millions of Christmas cards, wrapping paper, tree decorations, fairy lights. Only  little thought and care is necessary to stop the increase of waste. What can be do?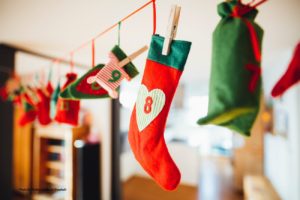 Already in the Advent season you can avoid packaging waste by buying a reusable advent calendar made of fabric, felt or wood. And you can fill it yourself. The recipients often appreciate the personal gesture and the tradition, a very nice side effect of sustainable behavior.
Gift wrapping made of fabric are easy to sew and infinitely reusable. Those who can not or do not want to sew themselves often find a great offer at the Christmas markets. The stalls of social institutions from the region, rural women or development associations are among the usual suspects who offer handicrafts. Also on the Internet there are offers such as Beutelwerk or Unverpackt.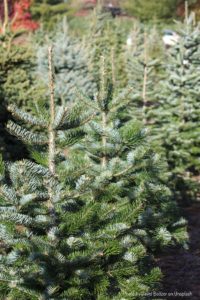 If you do not want to miss out on a real Christmas tree, RobinWood  has a list of outlets with ecologically grown trees without the use of pesticides, mineral fertilizers and growth regulators. A new trend is to rent a Christmas tree and giving it back to plant after the holidays. There are not many providers yet, but it is always worthwhile to inquire at  a forestry or a tree gardener.
Fairy lights cause, according to Verbraucherzentrale NRW in four weeks 15 Euro electricity costs. Significantly more energy-efficient and, about 100 times more often, LED fairy lights or light tubes can be used and help to reduce the ecological footprint. Under no circumstances should you use fairy lights with battery operation. Battery power is many times more expensive than electricity from the outlet and causes a lot of hazardous waste, as the batteries often have to be replaced several times during Advent and Christmas time.
It is certainly impressive to decorate your Christmas tree every year with a different color or a different design with lots of glitter and ribbons. Some may have followed with morbid fascination the coverage of the decoration of Melania Trump in the White House. Those who pay attention to their environment, draw on Christmas tree decorations made of glass, wood, paper, salt dough and other natural materials, which are valued at best every year more and tell a family story. High gloss foils and plastic balls are not packaging waste and must be disposed of in the residual waste bin after Christmas.
Making Advent and Christmas sustainable and environmentally friendly is in line with the message of love and peace of this holiday. The respectful use of materials and resources expresses our love for our environment and is a step in the process of protecting our world. Circular Christmas.
We wish our readers a contemplative time and a positive balance of their own ecological footprint at the end of the year.